Local Cuisines in Dunhuang
Dunhuang belongs to arid desert climate. which is close to Qilian Mountain, the Dang river, Daquan river and Shule river originated from Qilian Mountain all run to Dunhuang and supplied with it abundant underground water.
Dunhuang is a typical oasis agricultural area. It has developed agriculture and animal husbandry, where once inhabited by multi-ethnic people whose diet custom was more or less left behind.
Dunhuang food revolves around wheat flour noodles as the main staple of the local diet. Noodles are served with lamb, chicken, or beef. On the other hand, Dunhuang Rang Pizi has long been one of the most popular dishes in the city. These noodles are actually made from pea flour and are clear, white, cool and slippery. The noodles are seasoned with hot peppers for a cool, yet spicy feel that is just perfect for desert weather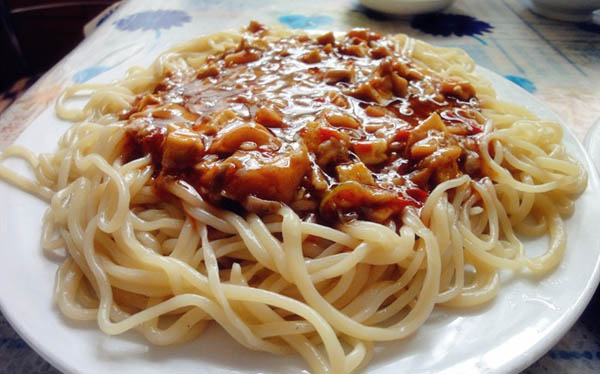 Dunhuang Yellow Hand-pulled Noodle
Some say that from a distance, Dunhuang yellow noodles (Huangmian) resemble threads of gold. While this is somewhat of an exaggeration, these noodles are by no means simple to make. Only the expert chef can properly pull the heavy dough into noodles. The fine thread-like noodles are then boiled in water until they float. However, the noodles are typically eaten cold or at room temperature. Yellow noodles are often eaten with other dishes as a staple (like rice in other parts of China).
On certain murals and frescoes in the Mogao Grottoes, there are vivid portrayals of people making yellow noodles. They're convincing proofs of the long history and popularity of Dunhuang Yellow Noodles.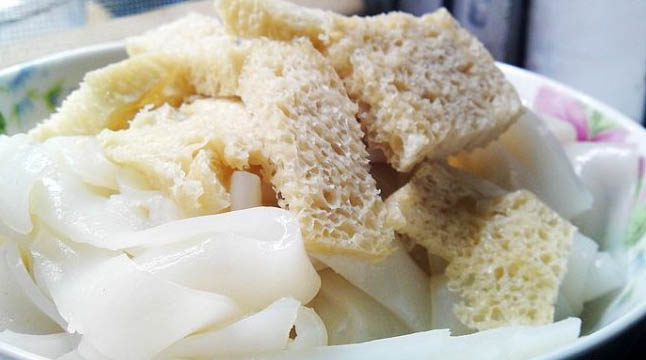 Cold Noodle - Niang Pi Zi
Dunhuang Cold Noodle is the most representative snack is Dunhuang, and it is really a must-have along your Dunhuang travel. Dunhuang cold noodle is featured with its unique making method and special local flavor. Served with other seasons like vinegar, salt, garlic, sesame oil, cucumber and chili oil, the cold noodle tastes much more delicious.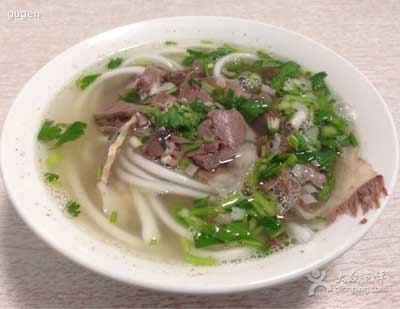 Mutton Soup
Mutton soup is traditional local food in Dunhuang. Usually plump and sturdy local wethers were slaughtered and cut into large pieces. Then cook in pot with water. When the water boils clean the froth on the surface and put some salt in. when the meat is ready take it out and cut meat off from bones. Then put bones back pot to cook soup. When eating, add some water in the soup and put ginger, pepper, cinnamon, chili, salt, turnip and potato noodles in. meat were sliced into thin pieces and put in the bowl, then scoop boiling soup into the bowl and add green onions and coriander. The mutton soup is good in color, flavor and taste, it's also nutritious. In cold winter, a bowl of mutton soup will help to dispelling cold.