Local Cuisines in Zhangye
Zhangye also called "Ganzhou" is an agricultural city. Local people eat more wheaten food than rice.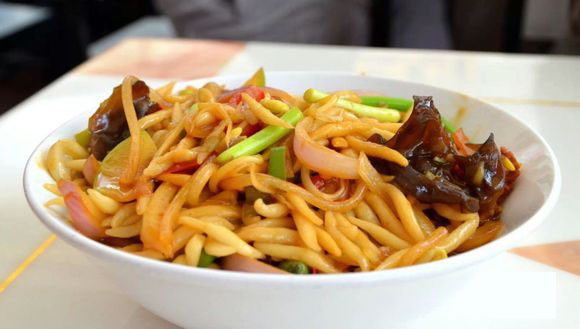 The fish-like noodle
The fish-like noodle is the most famed local food. The wheat flour was made into dough and then was cut into small pieces which were later rubbed into fish-like noodles. The noodle is 2-3cm long, with two pointy ends and thick middle, which looks like little fish. The fish-like noodles usually boiled and fried with pork and garlic bolt.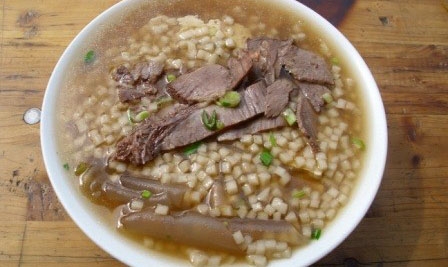 The beef little noodle
The beef little noodle was made of wheat flour and beef. Dough was first cut into tiny pieces of the size of rice grain. Then they were boiled with beef, doufu and bean noodles. Pieces of green onions and coriander were sprinkled on it before fill in the bowl.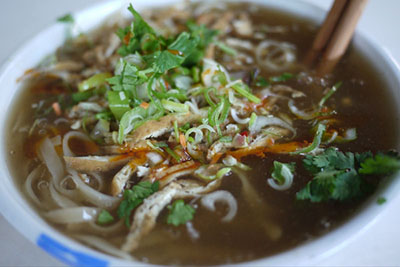 Zhangye minced noodles
It's the most widespread and populous breakfast meal in Zhangye. The noodles are very thin and elastic. The soup was boiled from chicken, beef or pork chop and seasoned with pepper and ginger powder. Then add some starch to realize certain thickness and in the end add doufu slices. The soup should be crystal clear with savoury flavor.
Restaurant Recommendation
Suan La Sao 酸辣嫂 2nd floor, News Building, No. 109 , Xianfu South Street, Zhangye. 张掖县府南街109号新闻大厦2楼. 电话:0936-8227895, 0936-8223668
Feng Sha Du风沙渡 2nd floor, Xinshiji Building, Zhangye 南大街新世纪大厦2楼(近河西大厦). 电话:0936-8859888
Xiao La Jiao 小辣椒 2nd floor, Jiahen Hotel, Xianfu South Street, Zhangye 张掖县府南街嘉亨大酒店2楼. 电话:0936-8219095