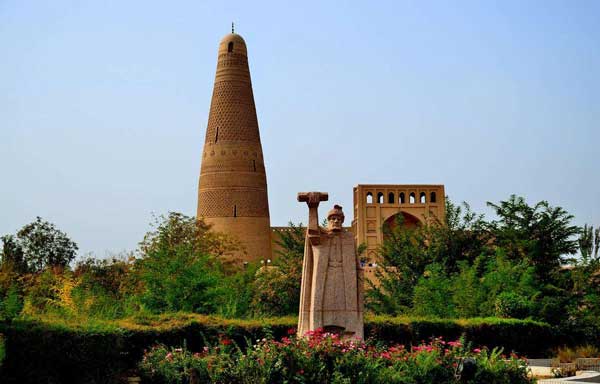 Emin Minaret is located at eastern suburbs of Turpan City in the village of Munar, Xinjiang. It is a tower-shaped Islamic building with a unique style. Emin Minaret is the largest existing ancient pagoda in Xinjiang. It was built in 1777 in honor of the heroic Turpan general, Emin Khoja. He was an outstanding patriot who defended the unification of China throughout his life and was crowned as king by the Qing Dynasty. It was Suleman, his second son that built this minaret with his own money of nearly 300 kilograms of silver. This is the reason why the minaret is also named Su Gong Ta. Upon Emin's death, Suleman inherited his father's rank and became the second Turpan ruler.A9CSilk Road Adventure & Private Tours - Silk Road China Tours
Emin Minaret is a novel and unique Islamic ancient pagoda built with blue-gray bricks. The 44-meter (144 feet) high minaret has no stories. From the base with a diameter of 10 meters (32.8 feet), it tapers to an Islamic dome. In its center is a brick-piled pillar with 72 steps around it spiraling to the top. There are 14 openings for ventilation and lighting which are located in different directions and at various heights. On the top, there is an attic of 10 square meters (107 square feet) with large windows on the four sides through which the marvelous landscape could be admired. Unfortunately, visitors today cannot climb to the top due to the protection reasons.
Right beside the minaret stands Su Gong Ta Mosque, one of the largest mosque in Xinjiang. The building is solemn and simple, can accommodate thousands of people to do Naima. On the Eid al-Fitr festival and the Eid al-Adha festival, the Muslim masses, flocked to the mosque. Riding donkeys and bicycles, taking cars from all directions gathered here, awarding the ceremony, praying for blessing.